ν-cera Series of ceramic green sheet-related equipment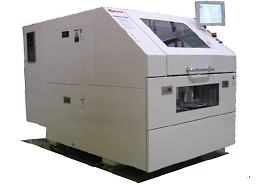 Ceramic green sheet-related equipment that satisfies demands for electronics which offer compact and high performance-designs.
Product List
PSG-200α Punching Machine

Offers a high hit rate of 30 holes/second thanks to its piezoelectric actuator drive.
Linear servo motor delivers high-speed and high-precision operations.
Has reduced idling time (simplified pin and dye replacement).
Super-quite operations.

CSG-280α Cutting Machine

A low-price model with a single-blade design.
A CCD camera enables high-precision image processing.
Helps reduce setup time (simplified machining program preparation / cutter holder installation).

PLM Series Stacking Machine

Alignment with a CCD camera and achieves high-precision laminated layers of less than ±5µm through pin lamination.